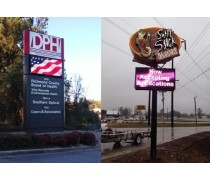 4 Reasons Your New Shop Needs Outdoor LED Signs
If you're just trying to get your new business venture off the ground and wondering whether you need to invest in programmable outdoor LED signs, here are excellent reasons why you should:
Draw attention
Placed in the right spot, programmable outdoor LED signs can draw attention to your place of business. That's going to be invaluable, especially if you're trying to build and grow your business in the area. Great outdoor signs can get you a good start on that.
Reinforce your brand
Advertising needs to match your brand's positioning, voice and personality, says the Houston Chronicle. If it fails on any of these three levels, you're missing out on a huge opportunity to increase your market share. By shopping around for outdoor signs that complement your store's architecture and décor, your potential customers can take one look at your sign and understand what your business is all about.
Promote offers
Want to draw in more customers to your business? Provide them with deals and offers they can't resist. Use programmable outdoor LED signs to display your daily lunch menus, the specials for the day or your discount offers and promos. In retail? Do the same. If you're selling off items at a bargain price, use your outdoor LED signs to inform customers. Give customers plenty of reasons to visit your business.
Keep it convenient
You can also use outdoor signs to point to where your entrance or exits are, or to show your customers where your parking is supposed to be. If your restrooms are out in the back, an outdoor sign is going to come in handy in helping first-time guests and shoppers in finding these.
There are many reasons to invest in outdoor LED signs. Start checking out your options today.